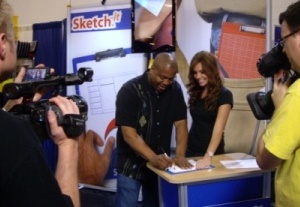 Sketch-it host Kara shows DIY Cool Tools host Chris Grundy how easy the Sketch-it clipboard works.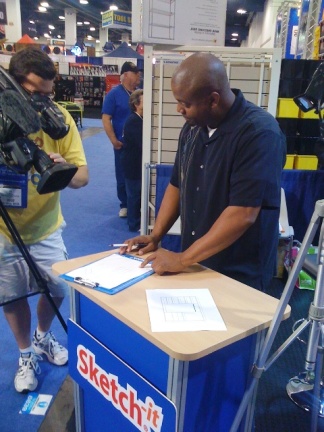 DIY Cool Tools Host Chris Grundy presenting Sketch-it for the camera.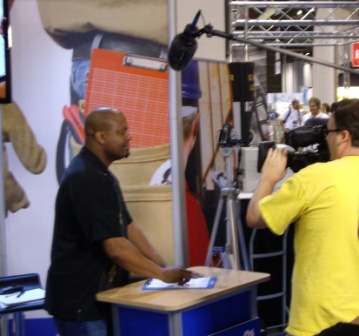 DIY Cool Tools TV host Chris Grundy showing the camera audience that even he can draw straight lines with his eyes closed using Sketch-it.
DIY Network's Cool Tools Checks Out the Latest and Greatest Tools at the Hardware Show
New Episodes of Cool Tools Debut Thanksgiving Week
NEW YORK – November 15, 2010 – DIY Network's Cool Tools host and tool expert Chris
Grundy takes a look at over 850,000 sq. ft. of the latest and greatest cool tools at The Hardware
Show in Las Vegas.. Tune in to Cool Tools: Hardware Show 2010 premiering Thursday, Nov. 25
at 8 p.m. ET and 11 p.m. ET and Friday, Nov. 26 at 6 p.m. ET during DIY
Network's third annual two-day marathon: Cool Tools Holiday Blitz.
Grundy gives viewers an exclusive look at tools* – the tried and true -- in the network's popular
primetime series, Cool Tools, revealing insider tips from the people who helped create them. Tool
and gadget gurus, along with their friends and family, do not want to miss this holiday shopping
guide during DIY Network's Thanksgiving Week marathon. Have friends who could use a hand
while they work? Check out the tools* featured in this episode:
Hole Pro Adapter & Shield: A supersized hole-cutter that's heavy duty and comes equipped with
depth control.Price: Approx. $100
Hole Pro Stucco Hole Saw: This tool can fit into tight places and makes clean cut holes every time.
Price starts at $30
Swanson Lightning Level: This industrial strength level is both durable and accurate and is lit by
LED lights so you can see exactly what you're measuring.Price starts at $30
Benchmark Table: This tool is compact and durable. It has nine different cutting paths that run along
a grid system and several clamping options.Price: Approx. $300
Sketch-It: This micro-grid clipboard ensures you'll draw straight lines every time.
Bosch 12 Volt Pocket Driver: The smallest and most powerful screwdriver on the market. Weighing
under 2-lbs. this tool has 350 to 1,300 RPM and 20 clutch settings.Price: Approx. $130
Craftsman Nextec Circ. Saw: This tool is both quick and clean so you'll get the job done right.
Price: Approx. $60
Might-D-Light: With 80 LED lights, this light configures to any shape for any space.
Price: Approx. $45
Exact Mini Saw: A saw that can cut just about anything besides glass and is both precise and
lightweight.Price: Approx. $130
Exakt Sander Planer: A sander that can sand from 1 to 50 layers of material.
Price: Approx. $160
Gladiator Garageworks Bamboo Workbench: Stronger than steel. This workbench is sturdy,
versatile and environmentally friendly.Price: Approx. $300
Snap-On Box Vac: This tool is heavy duty and provides a secure place for all your tools with 200 air
watts.Price: Approx. $100
Boomerang Retractable Tools: The only retractable tools on the market that attach to your belt
buckle so you'll never lose them.Price starts at $40
Worx Electric Chainsaw: A lightweight and powerful chainsaw with auto-tension and an auto-oiler
to keep your saw working smooth the entire time.Price: Approx. $100
Woodman Tools SkatePlate: This tool attaches to your circular saw and makes it easy to make
straight cuts faster than ever. With its carbon fiber material, it ensures that it won't bend during use.
Price: Approx. $70
Kreg Deck Jig: With this deck jig and a few simple tools you already own, you can create a
beautiful and functional deck surface, completely free of exposed fasteners and painful splinters.
Price: Approx. $100
Easy Green Lawn Paint: The environmentally safe way to make your lawn look great all-year long.
Price: Approx. $30
Scotch Edgelock Tape: Edge-Lock Technology keeps the paint out and produces straighter and
sharper paint lines.Price: Approx. $10
Giani Counter Top Paint: A granite countertop finish that's beautiful and safe for your family.
Price: Approx. $50
U-Stripe It: Forget the ruler, pencil and level; this tool is your answer to straight stripes without the
fuss.Price: Approx. $40
Skil Floor Saw: Lightweight, innovative, and compact this flooring saw cuts solid, engineered and
laminate flooring with ease.Price: Approx. $160
General Tools Power Screwdriver: Ideal for ultra-delicate applications such as computer and
electronics repair, hobbies and crafts.Price: Approx. $30
Proxxon Disc Sander: This tool uses a disc that's only 5 inches in diameter, but it packs a lot of
versatility, power and precision into its small size.Price: Approx. $240
JLG Lift Pod: No need for a ladder, this lift pod is both lightweight and portable and extends up to 8
ft. in height.Price: Approx. $2,000
Adjustable Door Hinge: Whether it sticks side-to-side, in-or-out, on the bottom or even the top, the
original adjustable door hinge can make it stop.Price: Approx. $7
One 2 Flush: The first U.S.-assembled water conservation product can help your family save
thousands of gallons of water a year every time you flush your toilet.Price: Approx. $30
Acadiana Tools Compass Guide: The only measuring tape you will ever need. It has a built in guide
for perfect measurements every time.Price: Approx. $20
SOG Power Assist Multi-Tool: The first multi-tool in the world to house not just one, but two SOG
assisted technology blades.Price: Approx. $120
Ridgid JobMax: Compact and powerful, this is the most versatile tool system on the market.
Price: Approx. $100
Dremel Trio: The multi-purpose cutting bit included with this tool lets you cut a variety of materials
using only one bit. Price: Approx. $100
For more information on Cool ToolsandDIY Network's Cool Tools Holiday Blitz, visit
www.DIYNetwork.com/cooltools. Members of the media may also obtain additional press
materials, talent bios and show images by registering at DIY Network's online media
newsroom. Viewers can also become fans of DIY Network and interact with other home
improvement enthusiasts and do-it-yourselfers through Twitter and facebook. DIY Network is
available nationwide on DISH Network Ch. 111 and DIRECTV Ch. 230, and additional cable
channel designations may be found by checking local listings and www.DIYNetwork.com/tv.
About DIY Network
DIY Network, from the makers of HGTV and Food Network, is the go-to destination for rip-up,
knock-out home improvement television. DIY Network's programs and experts answer the most
sought-after questions and offer creative projects for do-it-yourself enthusiasts. One of the fastest
growing digital networks and currently in more than 53 million homes, DIY Network's
programming covers a broad range of categories, including home improvement and landscaping.
The network's award-winning website, www.DIYnetwork.com, is a leader in the Nielsen Online
Home and Garden category and features multiple resources, including thousands of do-it-yourself
home improvement projects, expert advice, how-to videos and images, and user-friendly reference
guides with step-by-step instructions.
# # #